Origin and environmental requirements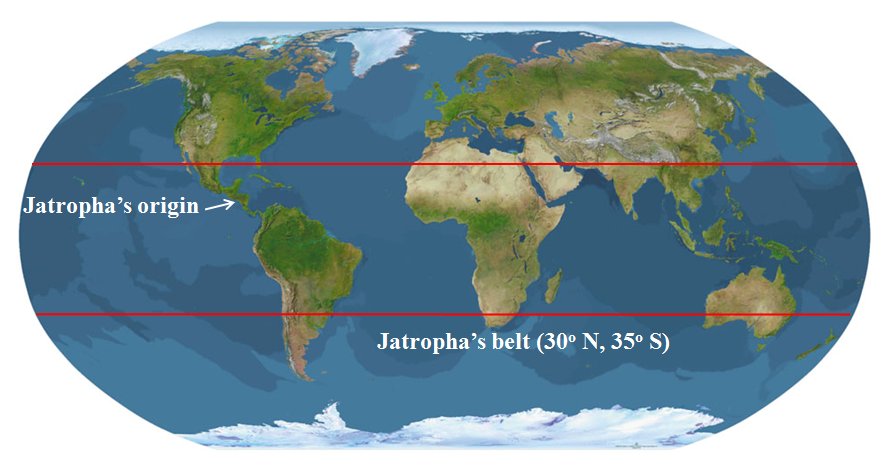 Jatropha curcas originates from Central America, but is now found abundantly in many tropical and sub-tropical regions throughout Africa and Asia. It was probably distributed by Portuguese ships via the Cape Verde Islands and Guinea Bissau. The main reasons for this distribution was the favorable attributes and considerable potentials of that species, such as its hardiness, drought resistance, rapid growth, high oil content and multiple uses.
Jatropha can crow in a wide range of environmental and soil conditions. Nevertheless, in order to have a good productivity, plants must grow with more than 600 mm of rainfall per year in altitudes lower than 500 meters above sea level. It withstands long drought periods, is not sensitive to day length and may flower at any time of the year. It cannot stand frost, but it can survive in very light frost by losing all leaves. Optimum temperatures are between 20˚C and 28˚C.
The best soils for jatropha are aerated sands and loams of at least 45 cm depth. Heavy clay soils are less suitable and should be avoided, particularly where drainage is impaired, as jatropha is intolerant of waterlogged conditions. Ability to grow in alkaline soils has been widely reported, but the soil pH should be within 6.0 to 8.0/8.5. Jatropha is known for its ability to survive in very poor dry soils in conditions considered marginal for agriculture, and can even root into rock crevices.